Tax Lien Certificates - Tax Deed Sales
in California CA
California is authorized to have tax lien certificate sales, but so far only the area around San Francisco is considering conducting them.
However, California is a good state for tax deed sales. Here is a summary of information for tax sales in California:
Interest Rate
18% if tax lien auctions are held.
Redemption Period
2 to 3 years if tax lien auctions are held, but varies depending on the county.
California Tax Lien Auctions
No tax lien sales have been held to date.
California Tax Deed Sales
California conducts many tax deed sales, including some online conducted by Bid4Assets. Rules and times vary based on the county.
Bidding Process
All tax deed sales are by competitive bid.
State Specific Information
California is probably one of the best tax deed sale states. However, in most cases you will need substantial capital to bid on properties since property values are so high. Refer to counties for specific tax deed sale information.
Visit this resource to learn more: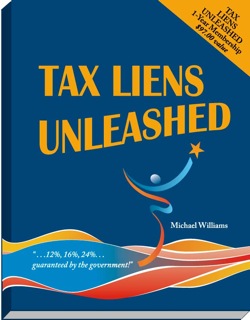 California Tax Lien Auctions are allowed by state law but are not currently conducted by any counties.
Tax Deed Sales occur year round, depending on the county. Many tax deed sales in California occur in February, March, April and May.
Are you looking for: detailed information for every state that sells tax lien certificates and/or conducts tax deed or tax foreclosure sales
If so,
Tax Liens Unleashed
is for YOU!