TAX LIENS UNLEASHED offers comprehensive information on investing in real estate, such as mortgage foreclosures, tax deed properties and tax lien certificates.
You will receive 2 ebooks, our Over-the-Counter Guide, links to county lists for purchasing liens/deeds without traveling, over 25 premium reports covering various tax lien and deed investing topics, over 30 resources for identifying upcoming tax sales (including online auctions), and more!
Visit Tax Liens Unleashed to take advantage of this opportunity.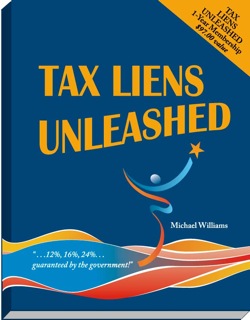 Real Estate Investing
There are many different ways to invest in real estate:
1. If you are a passive investor who desires a low-risk investment with almost no hassles, that consistently return about 15 percent per year, Real Estate Investment Trusts (REITs) might be your ticket.
2. If you do not mind doing a little research, making some phone calls and possibly going to an auction, then tax lien certificates might interest you.
3. If you are ready to get your hands dirty but loathe the prospect of dealing with renters, then you might like buying undervalued real estate that you can fix up for a tidy profit.
4. Finally, if you have enough courage to deal with renters, consider letting someone else pay down a mortgage and leave you with a handsome nest egg.
No matter which path you choose, knowing
real estate investing definitions will help you.

Click here for a complete glossary
of terms and their definitions.
Click here for a complete glossary
of terms and their definitions.