Tax Lien Certificates - Tax Deed Sales
in Michigan MI
Michigan used to be an excellent state for tax lien certificate sales. However, there are no longer tax lien certificate sales in Michigan. Fortunately, Michigan is also an excellent tax deed sales state. After the new law here is a summary of information for tax sales in Michigan.
Interest Rate
Until 2006 for properties with taxes that became delinquent before 2000, 15% the first year and 50% the second year. But now all sales are straight tax deed sales with no interest rate.
Redemption Period
2 years
Michigan Tax Lien Auctions
Counties no longer conduct tax lien sales.
Michigan Tax Deed Sales
Michigan conducts many tax deed sales. Some counties in Michigan now use the Internet to sell properties during a tax deed sale.
Bidding Process
All tax deed auctions are by competitive bid.
State-Specific Information
After 2006, the state stopped conducting tax lien certificate sales and all sales will be to acquire tax deeds.
Visit this resource to learn more: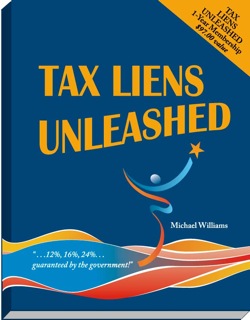 Michigan Tax Deed Auctions or Sales are held throughout the year.

Are you looking for: detailed information for every state that sells tax lien certificates and/or conducts tax deed or tax foreclosure sales?

If so,
Tax Liens Unleashed
is for YOU!